I love board games! How fun would it be for the whole fam to dress up in handmade Candy Land costumes?! Meaningful Mama did just that! Here's the low down on how she put the 5 costumes together:
Lolly – Purchased a little ballet outfit and sewed on the blue trim. Used colorful iron-on patches that I cut into circles and stripes and ironed them on to the skirt to look like lollipops. Used puff paint to add swirls to the lollipops. The crown was purchased and colorful stones added with a hot glue gun. Attached butterfly wings to the back of the ballet outfit.
Princess Frostine – The princess dress was found at Goodwill, and she sewed the cape and attached it to the dress with a broach!
Grandma Nut – The wig, purple tights, and green shoes were all thrift store items. She added a peanut to the shoes with a hot glue gun. The orange dress was sleeveless, and found at Goodwill. She sewed matching orange fabric to create the puff sleeves and the  green collar.
Mr. Mint – She recycled a Waldo shirt from another costume, and added duck tape to an almost all white hat. Duck tape was also used for his socks and axe. The red pants were found at Goodwill, and  stamped with fabric paint and some Christmas stamps. She bought suspenders at Good Will and added a mint button I found at the fabric store. The scarf and fluffy sock cuffs I sewed together using red and white fabric. The yellow garden gloves are from the garage, and they purchased the clown shoes and nose at Goodwill.
Gingerbread man costume was purchased.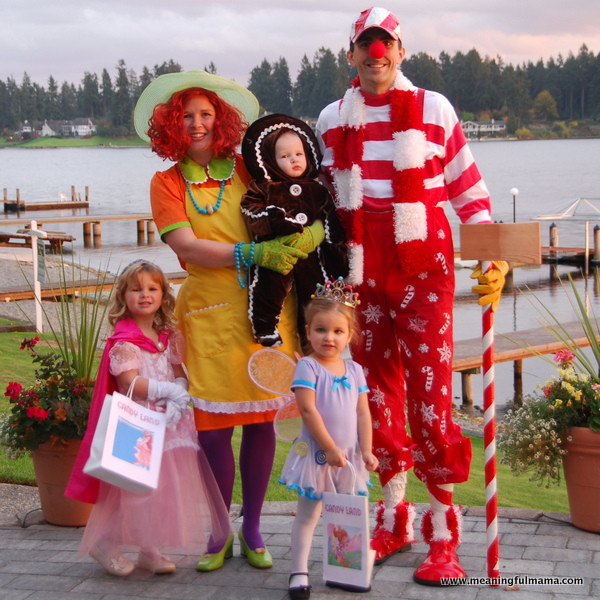 See lots more of Meaningful Mama's clever Halloween costumes on her blog!